Integration new style focuses on work (in De Stentor)
Integration new style focuses on work: "By making a contribution, people start to feel at home"
The integration of newcomers is being overhauled. Again, because the current policy is failing. Work must become the new keyword. Joan Kruitwagen-Winter from Apeldoorn has been working that way for a long time. ,, You won't get there with language lessons alone. You can speak each other's language, but that doesn't mean you understand each other. "
Alice van Eijk 11-05-19, 10:30
She skilfully walks past the cupboards with a cloth, nothing escapes her attention. Senait Weldit (32) from Wezep is a packer, she sees work. Originally Eritrean has recently been cleaning houses at De Leemkule holiday park in Hattem. She is well "established", has passed the exam and is working. ,, I live in the Netherlands and I want to learn the Dutch language well. That works best if I work and I am among other people. "
Senait Weldit integrates as Integration Minister Wouter Koolmees would like, but she is an exception. According to the current rules, newcomers must look for an integration course themselves. An approach that does not work, Koolmees also acknowledged: "It is not possible if you do not speak the language yet." It is difficult for integrators to distinguish between good and bad courses. It therefore takes too long before they can go without social assistance benefits.
The language requirements are going up because a better command of Dutch increases the chance of a job
Personal plan
Koolmees wants to put newcomers to work immediately and meanwhile let them learn the language. Municipalities must draw up a personal Integration and Participation Plan (PIP) for all integrators. The language requirements are going up because a better command of Dutch increases the chance of a job. Not everyone will be able to reach this level, but also for newcomers who achieve a lower language level, everything is geared towards becoming self-reliant as quickly as possible. Work is the key word here. Municipalities are given two years to prepare: integration 3.0 should be a fact by the beginning of 2021.
Also this week, government parties CDA and D66 reported that the new Dutch integration law offers scope for compulsory integration of Turks who come to the Netherlands. That is not the case now, but the introduction of the PIP means that the integration obligation can still be imposed.
Enyergy
Joan Kruitwagen-Winter (49) from Apeldoorn has been doing what has been advocated in The Hague for years. She is director of training institute WES-Education with offices in Apeldoorn, Nunspeet and Elburg, among others. Senait from Wezep follows the "WEL trajectory" devised by Kruitwagen, in which status holders are intensively guided to work and to learn the language.
People start to feel at home precisely by cooperating, contributing to a society
Joan Kruitwagen-Winter, director of WES-Education
Kruitwagen offers this route for more than a year. However, the idea came about ten years ago, when she gave Dutch status holders at ROC Aventus in Apeldoorn. ,, In my opinion, something was missing, language lessons alone won't get you there. You can speak each other's language, but that does not mean that you understand each other. And if you don't understand each other, then you can't feel at home either. People start to feel at home precisely by cooperating, contributing to a society. That's not going to be one, two, three. This requires time, energy and depth. Customization too. Why does someone feel different? What are the backgrounds? Which traumas play? I started working on that. "
She decided to start her own "Multi Culti" project in Apeldoorn. "People did paid work, but also volunteer work, they felt useful." It resulted in a training institute. The work and learning trajectory has been devised in practice. ,, We offer more language lessons than the rules prescribe. We organize the lessons as practical as possible. Where do you do your shopping? How do you take the roundabout to the supermarket? We have consultations before and after the lessons. People can go there with questions. Also simple: how do I buy a bicycle? "
It is appreciated, former students also stop by regularly. ,, If they struggle with something, but also to share something beautiful or a happy event. Or just for a cup of coffee. Also fine."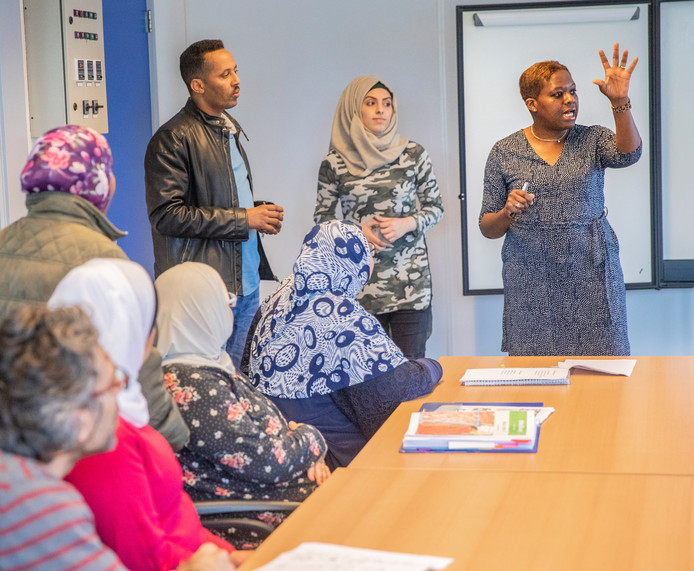 App
In addition, Joan Kruitwagen and its twelve employees are always available. ,, The lines are short, you have to. If a student does not appear in class, an app will go out. We try to find out why someone is not there and immediately link that back to the relevant municipality. We can switch quickly. I think it explains why it works so well. "
,, If someone is at the minimum language level, we set off. Outwards. Because integration is mainly done outside the language class. You can tell them everything, but they have to experience it for themselves. By doing volunteer work. Or paid work, as Senait does now. For example, she barely looked at people when she was approached. Now she does. Or she said "yes" if she meant "no" because she didn't understand the context. ""
Everything starts with self-confidence. My mother always said: find a few people who believe in your dream
Joan Kruitwagen-Winter, director of WES-Education
She knows what she's talking about. Joan Kruitwagen came from Suriname to the Netherlands as a little girl with her mother and brothers and sisters. She learned that integration is hard work. ,, Everything starts with self-confidence, having faith in yourself. My mother always assisted other people in her social career and always said: "find a few people who believe in your dream. Cherish the criticism. "That is how I was brought up. It makes me want to lend a hand to other women where they believe. And that I can say afterwards: "I am so glad I believed in you." Moreover, don't underestimate the power of a woman. Senait works hard because she wants to add something, but mainly because she wants nothing more than to embrace her children again. I try to help her by walking with her. So that she remains standing. In the workplace and at home. "
Payment
The enthusiasm, the involvement of Kruitwagen works, they know in Oldebroek. Thanks to intensive guidance, the municipality has received 26 status holders of benefits for work or training. Kathleen Hup and Klara Slijkhuis are responsible for the integration of newcomers at the municipality of Oldebroek. ,, The combination of language improvement and participation in social life is a very good one for these people. If all training institutes worked that way, we could achieve much better results in the Netherlands, "Slijkhuis predicts.
The success is in the short lines and the intensive guidance, Hup adds to her colleague. ,, Joan and her employees are on top of it. They not only provide extra language lessons but also guide the status holders outside the classroom. "
For the 10,000 euros that are now paid per status holder to integrate, you will not make it
Kathleen Hup and Klara Slijkhuis, municipality of Oldebroek
Money is still a thing, Hup and Slijkhuis acknowledge. ,, For the 10,000 euros that are currently being paid per status holder to integrate, you can't make it. We can handle things in this way because we can also use other pots. Integration 3.0 certainly works, but with the new Civic Integration Act, the minister will have to come up with more money. ""
Home
Senait is ready for today, her cottages are clean. She takes her bike and sets course for Wezep. To the house that really becomes her home when her two children are with her again.
Integrating the new law: what is changing?
From 2021, municipalities will be in charge again, so that newcomers no longer have to arrange their integration themselves. On the other hand, they will be punished more quickly if they fail.
Municipalities will purchase the lessons. For this they use the money that is currently being paid out as a loan to the integrators themselves. As part of their personal Civic Integration and Participation Plan (PIP), newcomers will receive an offer from the municipality for an integration program. Minister Wouter Koolmees hopes, for example, to prevent abuses and fraud at providers as much as possible. It remains the responsibility of newcomers to comply with the civic integration obligation within the three-year period and therefore to take an examination.
Koolmees wants status holders to get started with their integration from the first moment. Municipalities will assist them with this. This means that, in the first period, they pay for benefits such as rent and insurance costs from status assistance for status holders. The duration of this support varies per person and is recorded in the PIP. Opposite this extra guidance is that integrators who do not make sufficient efforts, will be confronted with sanctions, such as a fine, more often and faster than now.
The new Civic Integration Act will be introduced on January 1, 2021, six months later than intended. When Koolmees announced last summer that a new integration law would be introduced, he spoke of a start in July 2020. "In the meantime, it turned out that this was too ambitious," said Koolmees.